Tambour Horizon Connectée
Tambour Horizon, une invitation à parcourir le monde
La Cote des Montres™ le 12 juillet 2017



Louis Vuitton a décidé de découvrir de nouveaux horizons en explorant l'univers de la haute technologie. La Maison a ainsi choisi d'interpréter les infinies possibilités d'une montre connectée. Le défi consistait à en maîtriser les codes et le fonctionnement, tout en ajoutant une esthétique et un raffinement propres à Louis Vuitton.


Ainsi est née la Tambour Horizon,
une invitation à parcourir le monde...
La collection horlogère Tambour s'enrichit d'une montre à la fois inédite et totalement fidèle à la tradition Louis Vuitton. Une histoire cultivant les valeurs du luxe, l'esprit du voyage, mais aussi la créativité.
Disposant du même boîtier que la Tambour Moon, au galbe rentrant en forme de croissant de lune, la Tambour Horizon est avant tout une montre identifiable dès le premier regard. En choisissant une Tambour Horizon, avant même de disposer d'une montre connectée, on porte une montre Louis Vuitton...
Liée depuis ses origines à l'univers du voyage, la Maison Louis Vuitton a choisi d'inscrire sa montre connectée Tambour Horizon dans cette philosophie et de la doter de fonctions dédiées exclusives.
Baptisée
« My Flight »,
la première de ces fonctions que l'on ne retrouve sur aucune autre montre connectée, informe le voyageur en partance : horaire de son avion, précisions sur le terminal et la porte d'embarquement, indications de retard éventuel, nombre d'heures de vol restantes avant l'atterrissage, etc.
Avec cette fonctionnalité spécifique, Louis Vuitton souhaite offrir aux voyageurs toutes les indications nécessaires, au bon moment, afin de rendre tout déplacement plus agréable et plus serein.
La deuxième fonction exclusive,
« City Guide »,
étend à la montre connectée les services des guides édités par Louis Vuitton et de leurs applications pour tablettes et smartphones. Déjà, les meilleures adresses et lieux incontournables de sept villes parmi les plus visitées au monde se dévoilent sur l'écran tactile de la Tambour Horizon. La montre dispose d'une fonction géolocalisation intelligente qui indique en temps réel restaurants, hôtels, hauts lieux historiques ou touristiques à proximité immédiate de l'endroit où l'on se trouve.
La Tambour Horizon vit en permanence au rythme du voyage grâce à la fonction horlogère
« GMT »
assurée par l'affichage 24 heures présent sur le pourtour du cadran. Par ailleurs, une manipulation très simple permet d'afficher le nom d'une grande ville du monde et de faire apparaître l'heure correspondante, dans le fuseau horaire de son choix, en référence à la montre Escale et ses 24 fuseaux horaires.
Pour conférer à chaque Tambour Horizon un visage unique correspondant au tempérament et aux goûts esthétiques de son propriétaire, Louis Vuitton a privilégié les capacités de personnalisation. La montre est ainsi dotée de fonctions permettant de configurer entièrement son cadran en choisissant parmi les codes iconiques de la Maison : Monogram, Damier, Bandes de couleurs, mais aussi la possibilité d'y ajouter ses initiales.
La Tambour Horizon devient exclusive et personnelle grâce à un concept inédit de bracelets interchangeables. Simple et robuste, ce nouveau système propre à la Maison permet de changer, au gré de ses envies, aisément et sans outil, son bracelet.
Louis Vuitton a décidé d'offrir le meilleur de la technologie grâce à un partenariat avec Google pour leur système d'exploitation Android Wear™ et le processeur à haute performance Qualcomm® Snapdragon Wear™ 2100 platform. L'OS a été entièrement personnalisé pour faire vivre aux utilisateurs de Tambour Horizon une expérience de navigation simple, exclusive et entièrement signée Louis Vuitton : meilleur système d'exploitation ; meilleur écran en termes de définition et de luminosité ; meilleure navigation avec des fonctionnalités opérationnelles partout dans le monde quel que soit le pays où on l'a acquise, y compris en Chine, une caractéristique unique.
Avec son boîtier Tambour fabriqué en Suisse et ses composants assemblés aux Etats-Unis, dans la Silicon Valley, la Tambour Horizon réussit la synthèse entre la haute technologie la plus récente et l'exigence horlogère traditionnelle.
Le meilleur des deux mondes, pour une montre de luxe connectée aux fonctions innombrables, mais d'une utilisation extrêmement simple. La Tambour Horizon cultive avec style et raffinement tout le potentiel pratique que l'on peut attendre d'une montre connectée : choix de cadrans reprenant les codes visuels des modèles emblématiques des collections Louis Vuitton (GMT, chronographe, Escale...) ; notification des appels téléphoniques, SMS et mails entrants ; alarme ; compte à rebours ; météo ; nombre de pas parcourus, etc. Autant de fonctionnalités faisant de la Tambour Horizon une véritable tour de contrôle permettant de prendre connaissance de toutes les informations de la vie quotidienne sans avoir à consulter sans cesse son smartphone.
La Tambour Horizon existe en trois versions, Graphite, Monogram ou Black, elle apporte de l'esthétique et de l'émotion à la haute technologie. Grâce à son diamètre maîtrisée de 42mm, elle s'adresse aussi bien aux hommes qu'aux femmes et peut se porter au quotidien, passant en un instant d'un look sportif à un visage raffiné pour s'adapter à chaque moment de la journée.
Les célébrités à propos de la Tambour Horizon
Pour le lancement de la nouvelle Tambour Horizon connectée, Louis Vuitton rend un hommage au temps. 12 talents et amis de la maison lisent un manifeste qui fait allusion au monde connecté, à l'esprit du temps et au voyage. Cette campagne célèbre l'interconnectivité de notre monde.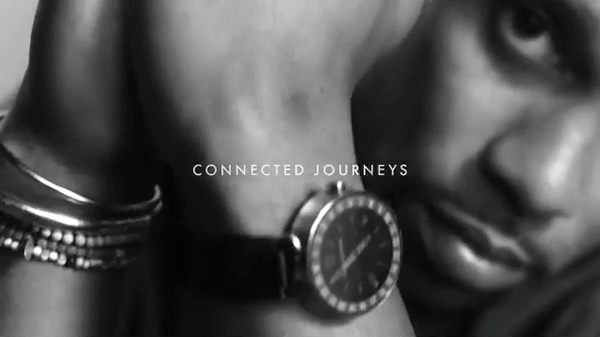 Talent
Manifeste
Adèle Exarchopoulos
France
Don't take time.
Catherine Deneuve
France
Let it take you...
Jaden Smith
États-Unis
across the sky
Jennifer Connelly
États-Unis
into the horizon
Laura Harrier
États-Unis
down to the sea.
Miranda Kerr
États-Unis
But wherever you land
Victor Cruz
États-Unis
on the other side of today
Yaya
Thaïlande
tomorrow is already underway.
Lu Han
Chine
Someone is rising.
Doona Bae
Corée
Someone is venturing.
Gong Yoo
Corée
Someone like you.
Ebizo Ichikawa
Japon
Someone like me.
In the circling of hands
as the story unfurls
one of us will change the world.
So let it roll...
a journey you begin,
an adventure that never ends.
À propos de Louis Vuitton
Depuis 1854, Louis Vuitton propose des créations uniques, où l'innovation technique s'allie à l'exigence du style en ambitionnant la plus haute qualité. La Maison reste fidèle à l'esprit de Louis, son fondateur et inventeur de l' « Art du voyage ». Ses bagages, sacs et accessoires furent aussi novateurs qu'élégants et ingénieux. Aujourd'hui encore, l'audace dicte l'histoire de Louis Vuitton. Fidèle à son héritage, la Maison a ouvert ses portes aux architectes, artistes ou designers tout en investissant de nouveaux domaines d'expression comme le prêt-à-porter, les souliers, les accessoires, les montres, la joaillerie ou encore l'écriture. Ces produits fabriqués avec grand soin attestent l'engagement de Louis Vuitton pour la haute qualité artisanale.